Visit Us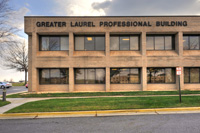 Laurel Eye Physicians is located in Laurel, Maryland.
Click here
for directions.
Patients are seen by appointment. If you need to make an appointment, please call our office at
301-498-6616.
Our Office
Laurel Eye Physicians
Greater Laurel Professional Building
14201 Laurel Park Drive
Suite 208
Laurel, MD 20707
Phone: 301-498-6616
Fax: 301-498-8030 Have questions, concerns, or comments? Need to schedule an appointment?
Contact Us