Doctors
Marcie Oser Wertlieb, MD
Bachelor of Arts (B.A.): Duke University, 1996, Magna Cum Laude
Medical Doctor (MD): University of Maryland School of Medicine, 2001
Internship in Internal Medicine: Washington Hospital Center, 2001-2002
Ophthalmology Residency: Washington Hospital Center/Georgetown University, 2002-2005

Dr. Wertlieb joined the practice upon completing her residency in ophthalmology in 2005. She is Board Certified by the American Board of Ophthalmology and is a Fellow in the American Academy of Ophthalmology.
She serves on the board of directors of the Maryland Society of Eye Physicians and Surgeons and has a long history of involvement with the Prevention of Blindness Society of Metropolitan Washington.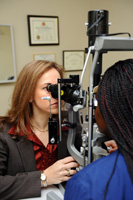 Dr. Wertlieb is a native of Silver Spring, MD, where she currently resides with her husband and two daughters. When she is not attending to the eye health needs of the community, Dr. Wertlieb likes to spend her time with her family, and enjoys traveling and exercising. She was a Spanish major at Duke and spent several months studying in Spain. She is fluent is Spanish and welcomes Spanish-speaking patients to the practice.
Julie Gutmark, MD
Bachelor of the Arts (B.A.): Princeton University, 1997
Medical Doctor (MD): Johns Hopkins School of Medicine, 2001
Internship in Internal Medicine: Greater Baltimore Medical Center, 2001-2002
Ophthalmology Residency: Doheny Eye Institute/University of Southern California, 2002-2005
Cornea Fellowship: Wilmer Eye Institute/Johns Hopkins University, 2005-2006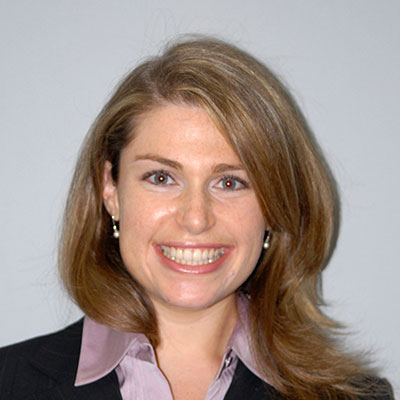 Dr. Julie Gutmark began practicing ophthalmology in 2006 and joined Laurel Eye Physicians in 2015. In addition to general ophthalmology, Dr. Gutmark specializes in cataract surgery (including use of premium lenses), refractive surgery, corneal transplantation, pterygium excisions, conjunctival surgery, chalazion excision, lid lesion biopsy, and glaucoma laser surgery. She is Board Certified by the American Board of Ophthalmology and is a member of the American Academy of Ophthalmology.
Dr. Gutmark's desire to practice ophthalmology was strong even in high school when she worked with an ophthalmologist in private practice and performed award-winning research. She received her B.A. in Molecular Biology from Princeton University and her medical degree form Johns Hopkins University. Dr. Gutmark also completed an ophthalmology residency at Doheny Eye Institute (University of Southern California) followed by a cornea fellowship at Johns Hopkins University's Wilmer Eye Institute, and received honors for her research at both institutions.
Before joining the practice, Dr. Gutmark practiced for several years in Silver Spring in private practice and taught at Washington Hospital Center and Wilmer Eye Institute at Johns Hopkins Hospital. Dr. Gutmark has spent the last several years serving our nation's veterans at the Veteran's Administration Hospital in Washington, D.C. In her free time, Dr. Gutmark enjoys spending time with her family, including her two young children, and dancing. She is fluent in Hebrew and conversational in Spanish.
Our Office
Laurel Eye Physicians
Greater Laurel Professional Building
14201 Laurel Park Drive
Suite 208
Laurel, MD 20707
Phone: 301-498-6616
Fax: 301-498-8030 Have questions, concerns, or comments? Need to schedule an appointment?
Contact Us